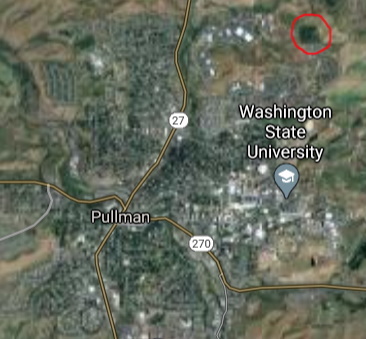 October 2. Yesterday I ate five grams of Psilocybe cubensis and went to a patch of ancient woods at the edge of town. It's called Magpie Forest. Here's a photo I took. The trees are mostly hawthorn, wiry and gnarled. We used to walk across the wheat fields to get there. Now the apartment district has expanded right to the edge of it, and WSU has bought the property as a nature preserve.

I'm not going to drive on mushrooms, so I had to ride my bike there, and the first thing I noticed was how far uphill it is. For almost half an hour, I was mostly climbing, sometimes so steep that I had to get off and walk.

When I got there, the drugs were taking effect, and I locked my bike to a tree and went down a little-used footpath, and then up a wildlife trail aiming for the center. It got too dense, and there were ants, so I backed up, and borrowed a bed from a deer to ride out the launch.

I have a thick head against mushrooms. The trip's plateau, even after I smoked weed on top, was hardly trippy, and I was disappointed to not see crystalline geometry in the branches, or sense the personalities of individual trees, like I did on my last trip.

But I did get a sense of the vibe of the forest. Compared to river trees, hill trees are hostile and suspicious. But they really know how to have fun. If you could get outside of time, you'd see them dancing in the meadows.

I found some cool places, including a patch of bare dirt, made by a large bird for dust baths, before a great thistle luminous in the sun. It felt like a temple, and I scattered some catnip seeds I brought from the river trail.

The biggest insight I got, was after a few hours in the woods, coming to the edge and looking down on the human-made world. It didn't strike me as evil, or ugly, but unreal. These strange animals, with their clickety-clack machinery, have taken the bounty of the earth and used it to go ever deeper inside their own insane constructions, and they don't even like it. It's anyone's guess how long they can keep going.