<![CDATA[

December 28. I wanted to post some afterthoughts about materialism and science, including an explanation of how the paranormal challenges our whole way of framing subjective and objective, which is related to how we think about mind and matter. What would the scientific method look like, if we saw mind as fundamental, or if we saw subjective/objective as a continuum instead of either/or?

But I'm not smart enough for that today, so I'll just write about weed.

This deleted reddit thread has some good thoughts about cannabis anxiety, including a nurse pointing out that THC lowers blood pressure, which can make the heart speed up, which can trick the mind into feeling anxiety. This TED talk, which I posted last month, has more details about how the brain creates emotions. My own theory is that cannabis temporarily increases emotional intelligence, enough to make us aware of all the mistakes we've been making.

And a scientific article, Rapid Changes in CB1 Receptor Availability in Cannabis Dependent Males after Abstinence from Cannabis. Basically, a two day tolerance break clears your brain's cannabinoid receptors so well that it's hard to measure the difference between two days and 28 days -- and yet, "Despite 4 weeks of abstinence, [receptor] availability in [stoners] did not reach healthy control levels."

I would add, recovery is about more than just clearing cannabinoid receptors -- it's about getting used to being sober again. I think there are parts of my consciousness that go numb when I'm high, like an arm goes numb when you lie on it, and even after the blood is flowing, it still prickles with pain and needs more time to work well.




Christmas Day, 2018. A couple weeks ago I mentioned Adam Curtis's prediction, "there's going to be a resurgence of religion," and since then I've been puzzling about how to define that word. With some help from Eric, this is what I've come up with:

A religion is a community of people united by a foundational belief. With so much uncertainty in life, it's practical to pick one thing that you refuse to doubt, and that belief is like the foundation of a building, or the anchor of a ship, or the seed of a crystal, for your whole model of reality.

Paradoxically, crazier religious beliefs are more robust. It's like people are boasting about the power of their faith, that they can truly believe something as loopy as flat-earthism. (Flat-earthism also offers something taken away by modernity: unseen worlds that you can walk to.)

In the old days, religion ran in families -- not just "you kids have to go to church," but people who really wanted to keep believing the same stuff for centuries. I think this is because our foundational beliefs are usually connected to whatever is the closest thing we've had to a transcendent experience. So the most magical thing kids would do, and later their most awesome memory, would be church events with their families.

That changed when we invented technologies that created stronger experiences than going to church, like television and psychedelic drugs. I'm not a Christian, because the story of the son of God dying for our sins doesn't resonate with me. Instead, I suspect that this is a badly run prison world, like on Hogan's Heroes, or that we live in some kind of fate-dense exile, like on Gilligan's Island.

Still, I'm grateful for being raised Catholic, because even though the nuns wore normal clothing, and the hymn singers looked like hippies, somehow I caught a precious vibe of epic spirituality. It's not a coincidence that my favorite sci-fi author (Roger Zelazny) and singer-songwriter (Colleen Kinsella) are also ex-Catholics.

My own most nearly transcendent experience came from a song, with help from cannabis. I feel that I've seen the light behind the world, and I want to make more lenses for that light. It's like a religion, but for one person. Just a few hundred years ago, that kind of thing would get you burned at the stake, but now it's almost common.

I expect that trend to continue, with more and more solofaithers; and I also expect a weakening of materialist metaphysics (which is totally a religion). But religion won't die, because most of us would rather share our beliefs than hold them alone. If we do get a resurgence of religion, I'm wondering what the foundational beliefs will be. I remember a favorite Bible quote of my old priest: "The stone that the builders rejected will become the cornerstone."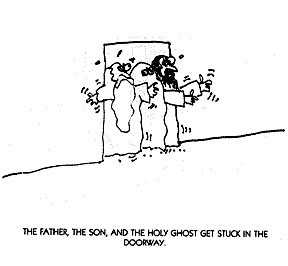 ]]>