Blueberries and Dandelions
-- 27 April 2012 --
A few days ago I was at Fred Meyer and noticed that potted blueberries were on sale for $7. It would have been difficult to carry more than two on my bike, so I drove the truck down and bought six. The varieties are Bluecrop, Bluegold, Northblue, Duke, Reka, and Toro. I'm not sure why I bought a Northblue since I already have one, but I stuck it in the planting strip, put three others along the north edge of the front yard, and two in back. The image above has been updated, and some of the plants look like they'll make berries this year.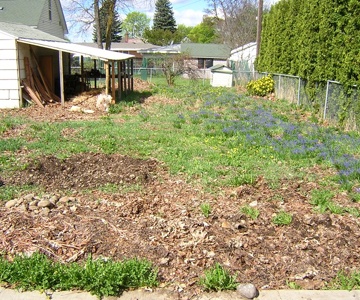 In other yard news, everything is thriving except the peach, apricot, and mulberry, none of which have put out leaves yet, and the mulberry seems to be dying back almost to the ground. Here's a photo of the back yard in spring. That yellow bush is the oregon grape in full flower, and the blue-purple flowers are
Muscari
, or Grape Hyacinth, apparently the only thing planted by a previous resident that can survive total neglect. They look nice and make nectar for insects, so I'm going to let them continue to fill in the gaps. Near the bottom of the photo is an area I sheet mulched with leaves and cardboard, and along the bottom are my salad greens. Why go to the trouble to plant lettuce or kale when dandelions volunteer, and are more nutritious? Well, because they're bitter. But I can fix that by eating them with sweet potato chips.
Spring Planting
-- 8 April 2012 --
On April 4 my plants from Raintree and St Lawrence arrived on the same day, and yesterday I finished putting them around my house. Above is a precise map of the yard, made with mtPaint. Each pixel represents three inches, and the whole lot is 50 by 150 feet. On the right side, in the planting strip by the street, "bb" represents lowbush blueberry, one Friendship and one Northblue. The large H is a 50 year old hawthorn tree that came with the house. The pink flowers are pretty but it's blocking my southeast light. The large A is a last minute order that hasn't come yet, an Orleans Reinette apple from Southmeadow Fruit Gardens. It seems to be listed more than any other apple as the best tasting in the world, but it's only hardy to zone 6. Thanks to climate change, I now feel safe growing it in the city, but I still wouldn't risk it 800 feet higher on the land.
Along the front of the house are five black currants, three Consort and two Ben Lomond. I'm trying to pick the ones with the strongest black currant flavor, and I've heard Crandall is also excellent. I've also heard currants and gooseberries don't mind getting morning light and no afternoon light, so that's why they're on the east side of the house.
In the back yard behind the garage, the M is an Illinois Everbearing mulberry. It's going to be a big tree, so I was originally going to put it in the northwest spot. But there are overhead lines there, so I decided to put it where it can reach its full size, even though it's going to shade my other trees. Above the mulberry is a Bali tart cherry, known as Evans in Canada. I've read that it doesn't quite match the flavor of Montmorency but it's better in every other way. Tart cherry is just about my favorite fruit. I don't even like sweet cherries. Next up, the P and A are a Contender peach and a Puget Gold apricot, both on Lovell rootstock. Because the roots think they're the same plant, there will be no below-ground disadvantage to planting them so close. Contender is the best-flavored short-season peach, but I've also read that it's a terrible keeper, and it might be worth sacrificing some flavor to grow Reliance instead.
The three small a's are Nero aronia, also known as black chokeberry. The berries are astringent, which is something different from sour or bitter, but otherwise they taste great, and I haven't grown any other berry bush that can survive so much abuse. Aronia is a tank! The O is an oregon grape bush that was already there. The rh is a rhubarb start (thanks Rachael for donating it), and the r's are Caroline raspberries, which I got as free bonus plants from Raintree.
Also today I made my first 2012 trip up to the land. As always on the first trip, I parked at the edge of the pavement and walked the two miles of dirt roads. We had a warm winter, but it was the rainiest March in recorded history, and the roads are worse than I've ever seen them, with ruts that would swallow a regular car tire up to the axle. There were some large 4wd trucks moving barely faster than I was walking, but I won't be able to drive in until somebody comes through with a grader. Anyway, everything up there looks fine, except that a moose ate all of last year's growth off my two favorite trees, the Ivan's Beauty and the larger Montmorency cherry. I planted a single Ben Lomond currant in a hole I dug last fall, which turned out to be just at the edge of the snow. Because I won't try to go up again for at least two weeks, I piled a bunch of snow and ice on the uphill side.
Archives:
September - October 2004
November - December 2004
January - March 2005
March - April 2005
May - July 2005
August 2005
September - October 2005
January - April 2006
May - June 2006
August 2006
September - November 2006
April - May 2007
June - September 2007
April - June 2008
July - November 2008
January - April 2009
May - June 2009
July - August 2009
September - November 2009
January - April 2010
May - July 2010
August - October 2010
October - November 2010
May - June 2011
August - December 2011